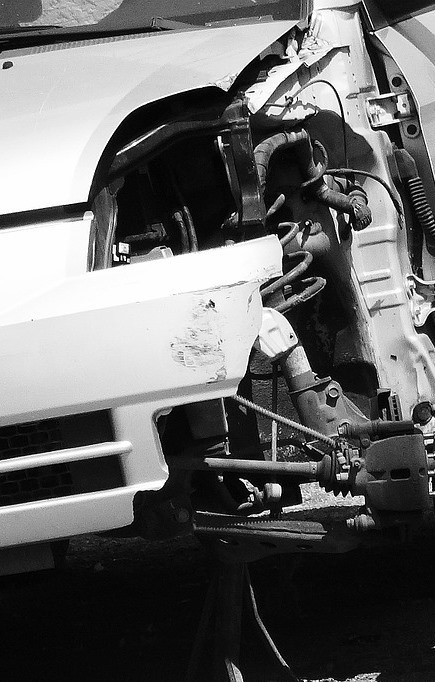 ROAD TRAFFIC ACCIDENTS: A CRASH COURSE IN PROTECTING YOUR LEGAL POSITION
How you react in those few moments after a road traffic accident can make all the difference in any subsequent legal proceedings (either brought against you or which you bring against another driver). Here are our top tips to protect your legal position:
1.

STOP
Regardless of fault, it is important that all vehicles remain at the scene of the accident. Your car should only be moved when it is causing an obstruction and/or there is a risk to other vehicles or pedestrians. You should put on your hazard lights to alert other road users of the accident especially if the light conditions are poor.
2.

EMERGENCY

SERVICES

?
If someone requires medical treatment, call the emergency services for an ambulance. If the road is blocked or you need help you should also ask for the police to attend.
3.

GET

SNAPPY
Photographic evidence may prove essential to proving your case. If possible, you should take photographs showing any visible damage to each vehicle involved in the collision, either at the scene or as soon as possible afterwards. Make sure to also take photos showing the point of the collision, the general road layout, debris on the road and any skid marks.
4.

EXCHANGE

DETAILS
The law requires you to exchange details with the other driver(s) if anyone is injured in the collision, damage has been caused to another vehicle (or to someone's property) or if an animal has been injured or killed. This information should include the following:
- Name
- Address
- Type of vehicle
- Vehicle registration
- Contact number
If it is impractical to exchange information at the scene (due to injuries, for example) you should report the accident at a police station as soon as possible (and in any case, within 24 hours).
5.

WITNESSES

?
If anyone witnessed the accident you should note their details and advise them that you might want to contact them in future.
6.

RECORD

THE

FACTS
We strongly advise that you write down as much information as possible regarding the circumstances of the accident. The closer you do this to the time of the accident the more you will remember. You should record any relevant facts such as the condition of the road (including any possible defects, such as pot holes), the weather, visibility and any comments made by the other driver. You should also record the exact location of the accident scene. This information will be useful if you need to make a statement to the police or your insurer at a later date.
7.

INSURANCE
You should contact your insurer as soon as possible after the accident even if it was not your fault or you do not intend to make a claim.
8.

DAMAGES
Remember to keep evidence of any expenses you incur as a result of the accident. This might include your insurance excess, costs to repair your vehicle, loss of wages, car hire or medical treatment fees.
9.

GET

LEGAL

ADVICE
Getting sound legal advice at the outset can made all the difference to the success of your case. Your solicitor will be able to advise you of the strength of your case and represent your interests when dealing with the representatives for the other parties.
Thomas Taggart & Sons has a great deal of experience in assisting individuals involved in road traffic accidents. We will give you clear advice at each stage of your case and work with you to achieve the best possible outcome. Please contact us today to find out more.