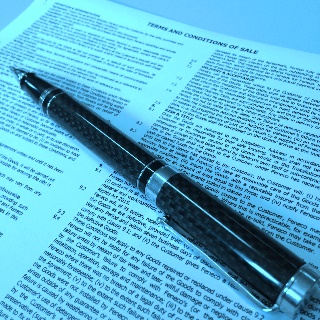 TERMS OF TRADING: WORTH THE PAPER THEY'RE WRITTEN ON?
So the economic crisis is over! Britain's economy is back on track! Business is booming again! Well, so says George Osborne, anyway. The reality is, however, that times for businesses throughout Northern Ireland remain tough. The number of liquidations within the province remains stubbornly high. Securing reasonable rates of lending continues to be a challenge. Consumer spending is also predicted to fall.
Against this backdrop, then, it is little wonder that businesses are not rushing to have their standard terms of business reviewed to ensure they are up-to-date and fit for purpose. After all, terms and conditions cause hassle. They make prospective customers nervous and they slow down the sales process. They can also be impossibly difficult to understand having been written by lawyers often far removed from the cutting edge of sales. As a result, many business's standard terms are badly out of date, fail to take account of recent legislative changes and often don't properly reflect the business's current business model or practices. Consequently, when a dispute arises and a detailed consideration of the agreed contract is required, many companies are left disappointed. Good standard terms (which have been drafted by a solicitor with a sound knowledge of the law and, crucially, your business) can, on the other hand, actually put your business at a competitive advantage. Here's how:
1. They allow you to control the transaction
A transaction completed on the basis of your business's standard terms will allow you to control the process and implementation timetable. Lead and payment times will be dictated by you.
2. They can reduce negotiating time
Standard terms will simplify your business's contracting procedures enabling transactions to be completed by more junior members of staff.
3. They can strengthen your hand
Standard terms can put you in a stronger negotiating position when trying to resolve aftersales issues such as late delivery, damaged or defective goods, complaints or payment disputes.
4. They can provide certainty
Having one set of terms, which governs the majority of your business's transactions, will give you greater certainty over your legal position. Negotiating contracts on a case-by-case basis (or simply accepting the other party's terms) often creates uncertainty and weakens your negotiating hand (see above).
5. They can project professionalism
Presenting clear terms of business to the proposed contracting party can inject professionalism into your sales pitch or purchasing negotiations.
6. They can protect your business's position
Standard terms which have been drafted specifically to suit your business can help protect it. For example, if your business is selling goods or services, they can impose a liability cap in line with your insurance policy limits. If purchasing, they can seek to extend the liability of the seller. They can also specify the scope or exclusion of any warranties or indemnities being sought.
7. They allow your business to take advantage of recent legislative changes
Ensuring your standard terms are up-to-date will allow your business to benefit from recent national and European legislative changes. Terms which rely on repealed legislation are likely to be ineffective.
8. They can help you win the "battle of the forms"
The legal position when both purchaser and seller present their own standard terms can be unclear. Well drafted terms (backed up by good sales practices) will help ensure your terms prevail.
9. They can help avoid costly litigation
A good set of standard terms will contain a sensible dispute resolution process. This may involve a form of mediation or arbitration. If the dispute does proceed to court, your terms should dictate the location. Many businesses in Northern Ireland will prefer N.I. courts and not those of the country where the other party is based.
If you would like standard terms drafted for your business (or want your existing terms reviewed), then contact Keith Dunn.